What we do
BLWs services support local residents to live independent lives through enhancing their socio-economic resilience and providing a support structure that is often lacking in their lives.
We strongly believe our services are an eco-system of support, that clients can access and benefit from, as and when their needs and abilities require it.
The eco-system is best illustrated in this diagram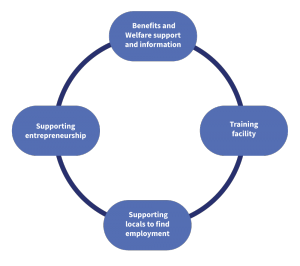 We help people at all stages of their journey, providing benefits and welfare advice to ensure that people's basic needs are met, supporting them to seek, secure and maintain sustainable work, and stimulating local entrepreneurship to create a lively economy where local people can live, work, and thrive.
Our four core areas of service delivery are:
Please contact BLW direct on
email: lea-anne@biglocalworks.org.uk